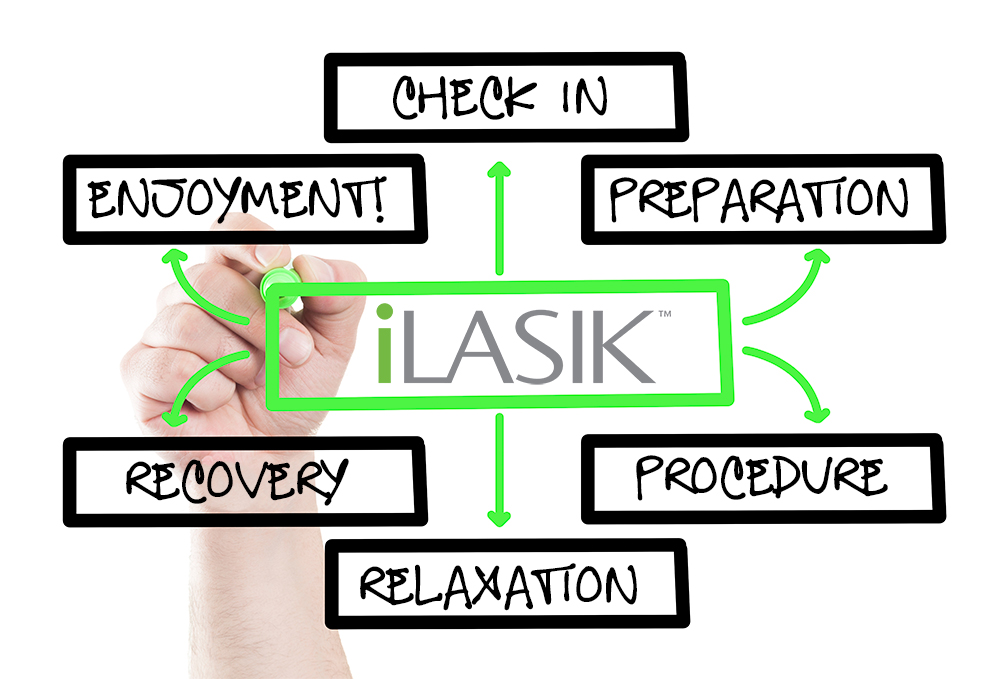 iLASIK: Step By Step
Would you be surprised to hear LASIK eye surgery is only 10 minutes per eye? In only 20 minutes, 20 plus years of bad vision can be corrected!
Although your procedure will only be 20 minutes, plan to be in our office 1 to 1 1/2 hours the day of your surgery. Here are the simple steps you need to know about LASIK eye surgery to achieve clear vision with the iLASIK procedure…

1. Check-In
Please bring with you the day of surgery:
Your signed Consent Form
Your prescription drops
We ask you arrive ten minutes prior to your appointment time the day of surgery. Please come "au naturale" without any makeup, hair products, cologne, or fragrance (we like to baby our lasers and the laser optics are sensitive to fragrant fumes). Dress for your comfort, the laser room is kept at a chilly 68˚.
Melanie or Laura will check you in at the front desk and accept your Consent Form and method of payment. You should also have your prescriptions with you for use during your procedure.
Please note regarding payment:
If paying by debit, FSA, or HSA card, ensure your account does not have a per-transaction limit on the card.
We offer a cash discount of $50 per eye. This includes check, money order, cashier's check, or cash. For ease of our receptionists, if paying by cash please bring large bills.

2. Preparation
Once you are checked in, Kim or Katie will welcome you to the corneal area. Your family may come back with you, in fact, we will have refreshments for you and your support team! Katie or Kim will review your post-operative instructions, your upcoming appointments, and have you sign one last form before giving you a 5mg Valium. You will relinquish your glasses and don a fashionable surgical bonnet (this is where family usually starts taking pictures!). Your prescription drops will be instilled (an antibiotic and an anti-inflammatory) and we will sterilize around the eye area. You are now officially ready for vision correction!
You can relax with your family in the waiting area before Dr. Parker comes to take you to the laser room.

3. Your Procedure
Since you will not have your glasses on, Dr. Parker will personally guide you to the laser room. Your family will get to stay behind and hang out with Katie and Kim. Including you, there will be five people in the laser room: Dr. Parker at the helm, Lori assisting Dr. Parker, Gerald at the laser, and Cindy or Mary performing instrument sterilization.
The IntraLase laser is used first to create the corneal flap. Then the bed you are laying on will pivot to the excimer treatment laser for vision correction. Dr. Parker will talk you through each step of the procedure so you always know what to expect.
After both eyes have been treated, Dr. Parker and Lori will fit clear goggles or shields over your eyes. Kim or Katie will be waiting for you outside the laser room to take you to an exam room where you will rest your eyes.
Looking for more details about the actual procedure? Click here!

4. Relaxation
Katie or Kim will get you comfy and reclined in an exam chair and offer you a drink or snack if you wish. Your family may join you in the exam room to hear all the details. Although you may already notice a difference in your vision and be inclined to look around, Dr. Parker asks you to keep your eyes closed so they can rest. Your eyes may be burning, scratchy, and watery which is to be expected.
Before your departure, Dr. Parker will perform a quick exam, use your prescription drops, and will instill another numbing drop before sending you home for your nap. Kim and Katie will bid you farewell with a parting gift from Eye Care Specialists.

5. Recovery
Once you are home, take your Restoril capsule, if needed, to help you sleep. It is not necessary for someone to monitor you while you recover and take your nap. However, you will need to awaken after 2-3 hours to use your prescription antibiotic drops and steroid drops. Continue your steroid drop every two hours until bedtime and use your antibiotic drops once more before bedtime. Rest and relax the rest of the day and limit your "screen time" (tablets, phones, computers, tv, and limited reading) as your vision continues to improve.
6. Enjoy Your New Vision!
The next day, you may reach for your glasses on the bed stand but should be able to read the clock just fine without them!! Don't forget to meet Dr. Parker at the office for a quick one-day post-op exam. You will still need a driver but you will be released to drive after this exam. In fact, you will receive a "get-out-of-driving-restrictions free card" to negate what is on your license.
Continue using your antibiotic and steroid drops four times a day for one week and your preservative-free artificial tears at least every two hours and as needed in between (click here if you need to re-print your drop instructions). Enjoy your new vision and be sure to share with your friends and family everything you know about LASIK and what it is like to have the freedom to do the activities you love!